South Rim Firefighters Continue to Make ProgressHotspots and Smoke Remain in the Chisos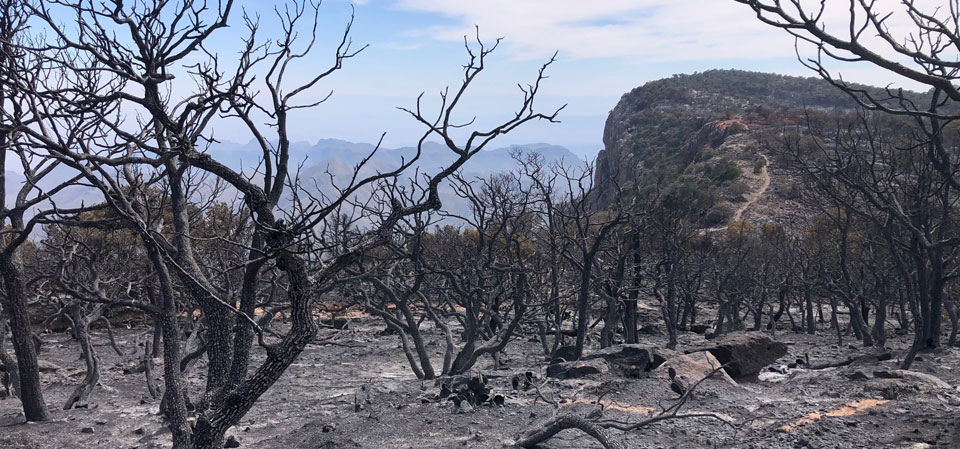 Burned area on the East RimNPS / M. Woolley

News Release Date: April 18, 2021

Contact: Tom VandenBerg, 432-477-1107
The South Rim Fire has decreased in complexity and fire activity has moderated to the point that command of the fire will transition from the Type 3 Incident Management Team (IMT) to a Type 4 IMT, on April 19, 2021. The Carson and Mount Taylor Hotshot crews will be demobilizing today, while the Diablos crew will remain on scene. Hotspots remain in Boot Canyon and Juniper Canyon areas, but the size of the fire continues to hold at 1,341 acres with containment at 60%. Fire personnel will continue to monitor the fire area and aid with rehabilitation of damaged areas. Bucket drops by helicopter will continue as needed.

The Chisos Mountains area of the Park, including the road, campgrounds, lodge and trails will remain closed to the public until further notice. Big Bend National Park Superintendent, Bob Krumenaker hopes that some areas of the Chisos Basin can be reopened by the end of the week. Park management looks forward to providing visitors access to the Chisos Basin as soon as it can be done safely. Visitors should continue to check the Big Bend National Park web and social media sites to obtain up to date information regarding Park access and fire news.

The weekend forecast is for cooler weather, clouds and a chance of rain in the fire area. This should help park management to continue working towards reopening areas affected by the fire. The fire is still burning, and as the weather warms, smoke may continue to be visible in Boot Canyon and Townsend Point areas.

Park visitors as well as employees are reminded that fire and support vehicles will be on Park roads. Everyone is asked to be aware of the potential hazards that are presented by increased traffic from firefighting efforts. Patience and courtesy are encouraged.
The National Park Service will continue to post regular updates and images on Big Bend's social media feeds. You can also find information at https://Inciweb.nwcg.gov. Inciweb is an incident information source available to everyone regarding wildfires throughout the United States. Click on the fire location on the map or type South Rim 4 in the incident box and you will be able to follow the daily updates.