Firefighters Aided by WeatherFire Growth Halted, 60% Contained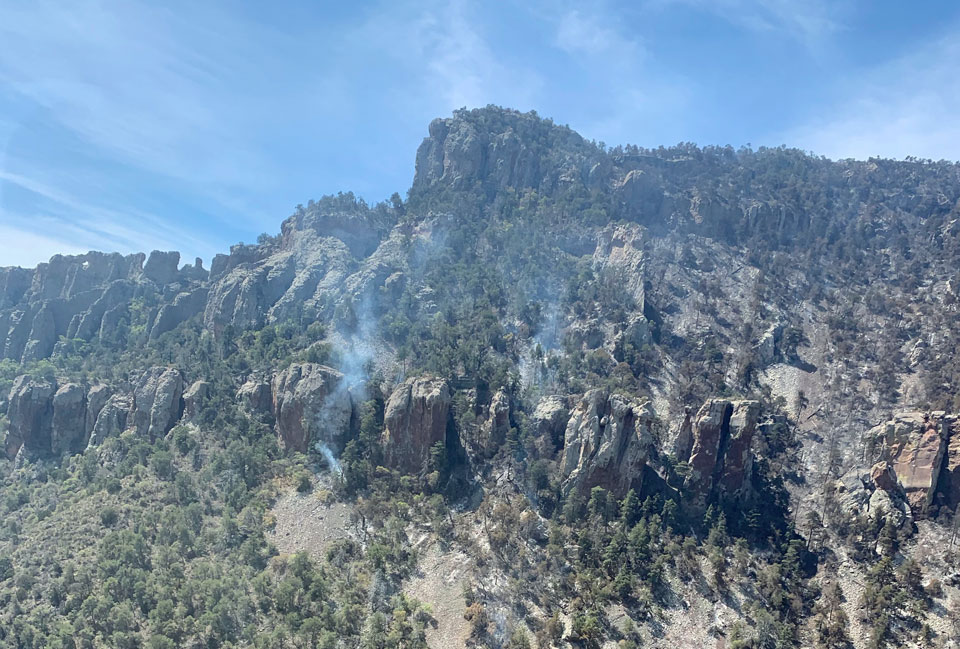 Hot spots still burn in several areas, including in Upper Juniper Canyon. Some of these areas are very difficult to access, and firefighters will continue monitoring and employing helicopter bucket drops as needed.NPS / D. Ivans

News Release Date: April 16, 2021

Contact: Tom VandenBerg, 432-477-1107
BIG BEND NATIONAL PARK, TX – An increase in cooler temperatures and higher humidity has significantly paused growth of the South Rim 4 fire over the past 24 hours to 1341 acres and allowed 60% containment. Because there are no control lines in the rocky country, it will take at least several days of monitoring and "cold trailing" to check for hot spots, to increase further containment numbers. More accurate mapping puts the fire at 1341 acres, even though it has not grown.

Crews have begun performing a rehabilitation analysis of trails and backcountry campsites. They will begin clearing hazards such as downed trees and brush across trails. Where it can be done safely, the National Park Service will open trails as quickly as possible once the risks from the fire and its impacts are mitigated, but there's no time estimate on how quickly that can be done.

Firefighters quickly protected the Chisos Basin development. With the knowledge gained from this incident, they are writing a structure protection plan that will aid in future park fires.

This is the beginning of the 2021 fire season and with this incident, fire staff can hone and improve their skills. An example of this effort was an Emergency Medical Response training exercise, provided by a team from Albuquerque, New Mexico. This is the time for mentoring trainees into multiple levels of the fire organization that not only helps Big Bend, but the national firefighting effort. Incident Commander DW Ivans said, "I am really proud of our fire leadership in this effort."

The Chisos Mountains area of the park, including the road, campground, lodge and trails will remain closed until further notice. Visitors are requested to check with park personnel regarding which trails and areas are open. There are firefighting vehicles on the narrow roads. This can pose traveling hazards to the public. Drivers are advised to remain vigilant, drive safely and be courteous throughout the park.Fire crews are working together to ensure that when the fire is declared out, and the crews are released, the community will know that their jewel is safe.There is still an abundance of beauty and adventure in other areas of this 801,000-acre national park to be enjoyed by visitors. The fire area is only a little more than 1% of the total park.

The National Park Service will continue to post regular fire updates and images on Big Bend's social media feeds. You can also go to https://Inciweb.nwcg.gov. It is an incident information source. Click on the fire location on the map, or type in South Rim 4 in the incident box and you will be able to follow daily updates.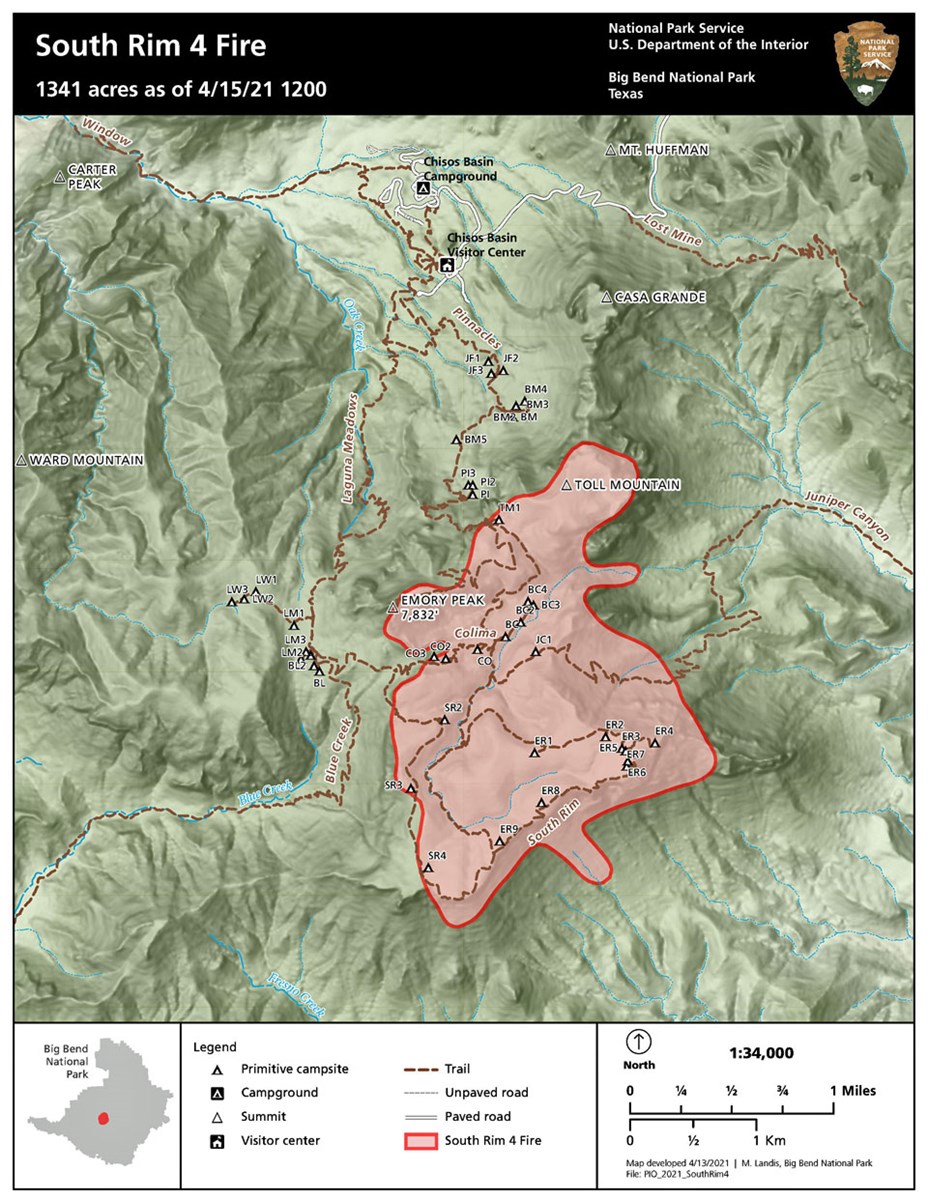 4-15 Map of the South Rim Fire.NPS