South Rim Fire UpdateFire expands to 600 acres. Conditions Improving Today.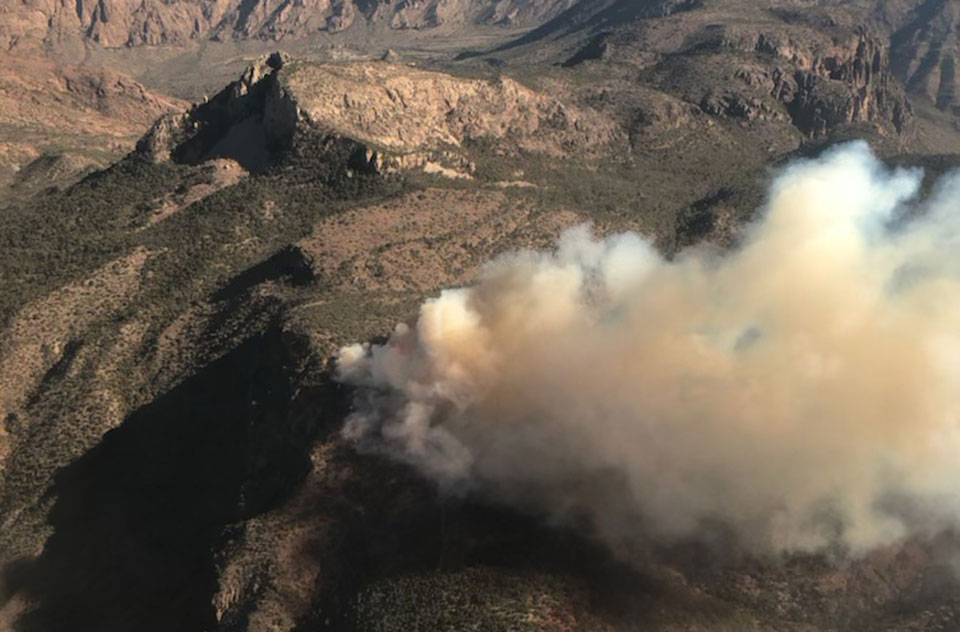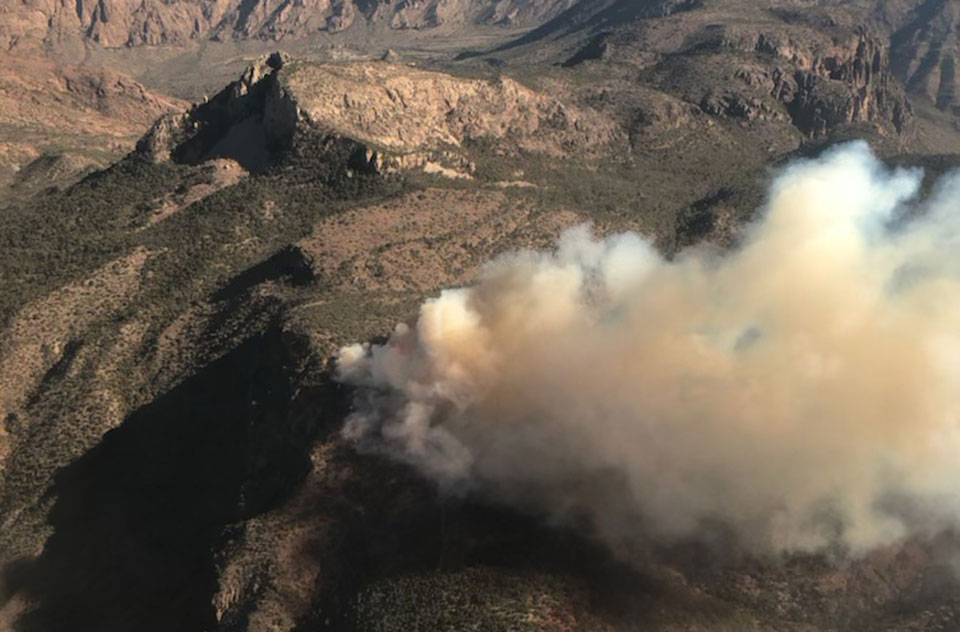 Smoke from the South Rim Fire was visible from all corners of the park on Friday.
Subscribe 

 | What is RSSNews Release Date: April 10, 2021

Contact: Tom VandenBerg, 432-477-1107
BIG BEND NATIONAL PARK, TEXAS – Firefighters working the South Rim Fire faced strong westerly winds and red-flag fire conditions throughout the day yesterday. Steady wind forced the fire to the eastern extent of the Rim, where it ran out of fuel, at which point the flames gradually flanked to the north, extending into the upper reaches of Boot Canyon. Firefighters spent much of the afternoon preparing to defend the Boot Cabin and corrals. At 4:00 pm, firefighters successfully conducted a back burn to protect those structures.  A small crew of firefighters remained on scene overnight to monitor the area. The current fire size estimate is 600 acres.

Weather forecasts for today show much promise. Temperatures are slightly cooler, and wind speeds are expected to drop considerably. Incident Commander D.W. Ivans is optimistic that cliffs and rocky terrain will help slow fire spread today and provide opportunities to begin containment. Some additional resources, including a helicopter, will also be arriving today to assist.

"While this is a growing incident, fire in the High Chisos is not unexpected nor a tragedy," stated Big Bend National Park Superintendent Bob Krumenaker. "I have great confidence in the fire team and everyone at Big Bend appreciates the expressions of support that are coming in. Our foremost objective is to protect human safety, and as part of that, we're working to keep the fire out of the Basin. I'm optimistic and we ask that park visitors understand that they will likely be inconvenienced. I encourage people to enjoy other parts of this remarkable park for the duration of the incident."

Today, personnel will be staging equipment and working within the Chisos Basin developed area. All backcountry trails and backpacking campsites in the Chisos Mountains and Outer Mountain Loop will remain closed until further notice. This is for visitor safety, as well as to allow staff to focus all efforts on the fire. The popular Window and Lost Mine Trails remain open for day hiking at this time.

The National Park Service will continue to post regular updates through social media.