Wildfire on the South Rim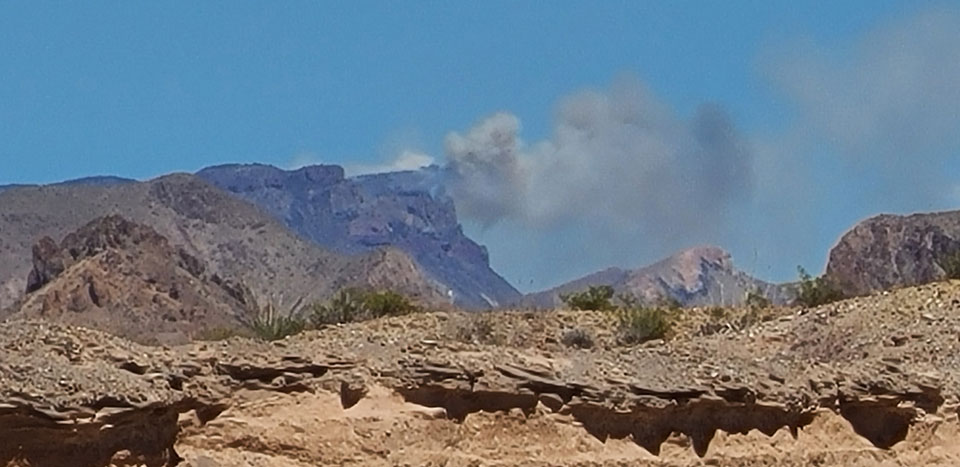 News Release Date: April 9, 2021

Contact: Tom VandenBerg
BIG BEND NATIONAL PARK, TX – At approximately 1:30 pm on Thursday, April 8th, Big Bend National Park received reports of a column of smoke on the southern edge of the South Rim of the Chisos Mountains. A small crew of firefighters quickly began to hike into the remote area, and air reconnaissance from Texas Forest Service was tasked from Alpine, TX to assess the location and extent of the fire.

Initial reports indicated that the fire was 15 acres in size and moving southward through open pinyon-juniper woodland and grass. Steady winds pushed the flames to the cliff edge of the South Rim, which effectively slowed the spread. A series of retardant drops were initiated to slow the fire and give the firefighters time to reach the scene. The South Rim is a rugged and remote location, only accessible via a 3-4 hour hike up steep trails. Fire personnel reached the area by early evening and began work on reducing fuels along trails, campsites, and prepping the area. The fire slowed overnight.

By Friday morning, April 9th  the fire was estimated at 15-20 acres in size. Today's forecast calls for high winds, warm temperatures, and very low humidity. Winds are forecast from the West, which is favorable to help keep the fire from spreading. More firefighters, including additional Diablo firefighters from Mexico, will be on scene by later this afternoon, bringing the total to 32. The park's mule team will also head to the fire today, carrying heavy loads of much needed water and equipment.

The woodlands of the Chisos Mountains have been shaped by natural wildfire, and fire is an important component for the health of the ecosystem. The cause of ignition of the South Rim Fire is unknown at this time.

Hiking trails and backpacking campsites in the high Chisos Mountains will be closed through the weekend to allow park teams to focus on the wildfire. This includes the Pinnacles, Laguna Meadow, Colima, Boot Canyon, Blue Creek, Juniper Canyon, and South Rim Trails. Park staff are contacting hikers and campers and working to accommodate new itineraries and campsites.

"I would like to express deep gratitude for the fast response of Big Bend's entire fire management team," said Deputy Superintendent David Elkowitz. "A special thanks to the firefighting teams. They will be working in hot, challenging conditions today."

The National Park Service will continue to post regular updates through social media.